Protecting our bees and pollinators is still vitally important. There are still lots of ways to participate. Here's how…
Like and follow our Facebook page
This one's easy!
Head over to fb.com/gransonthemake, like and follow the page and say hello. You'll find all the latest news on our current projects plus see what everyone else is saying!
---
Come to a show in 2023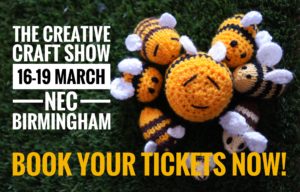 The Grans will be at some of the Creative Craft Shows run by ICHF Events up and down the country in 2023. One of the show highlights, their popular knit and knatter stand attracts lots of interest and participation, with visitors going away inspired to engage their local communities in the fun. Why not come and see them and join us there.
Currently confirmed for 2023 is the NEC Birmingham in March but check back to see other dates.
In addition, the Grans are now also working with the Worshipful Company of Wax Chandlers and will be attending the National Honey Show in October 2023 at Sandown Park. More later….
Can't come to a show?
Even if you can't make a show you can still BEE involved! Read on…
---
Make Bees for us!
We still need LOTS of bees! Swarms in fact! The Grans were thrilled to have been invited by the Worshipful Company of Wax Chandlers to help design their Float for the Lord Mayor's Show in London in November last year. But bees are always needed for their various fundraising projects at shows and for their very popular bee-rings!
You can find everything you need on our patterns page. Big bees, small bees, knitted bees, crochet bees…
There are even tutorials and a video supplied by our lovely partners the Makerss , to make gorgeous little felted bees. Go on. What are you waiting for? Buzz off!!
---
Sow some flowers
The most important thing you can do is sow some flowers – and tell us about it! Plantlife have lots of information on their site about bee friendly flowers. Or take a look at the Grow Wild website as well.
Here's a list of some bee friendly flowers:
Bee orchid, Bluebell, Chickweed wintergreen, Cornflower, Cow parsley, Cowslip, Dog rose, Foxglove, Fritillary, Grass-of-Parnassus, Harebell, Honeysuckle, Meadow crane's-bill, Oxeye Daisy, Pasqueflower, Poppy, Primrose, Ragged Robin, Red Campion, Snowdrop, Thrift, Viper's-Bugloss, Wild Daffodil, Wood Anemone,  Lesser Celandine…
---
Make some beebombs
Here's a fun tutorial on how to make clay beebombs which you can distribute on that unsightly patch of waste ground every local community has. Be sure to watch the outtakes at the end!
Sow Beebombs
Can't make? You can also buy beebombs from one of our lovely partners. Beebombs supported us throughout 2019 with a gift of their fabulous Native wildflower seedballs, handmade in Dorset.
Be careful though to make sure you are not disrupting specially protected areas or sites of special scientific interest. Your local council may know a suitable place.
---
Make or install a Bug Hotel
Russell Square Gardens in London have installed two fantastic homes for their resident insect population sponsored by two local hotels. You can watch the installation and why not join The Friends of Russell Square who are planning some pollinator fundraising activities in 2023.
---
Already Looking after Bees?
If you're already looking after bees and pollinators and grow bee-friendly flowers, own a hive, have made beebombs or a bug hotel, then please let us know so we can add you to our map! Just add your postcode in the box below. If you'd like to tell us more about what you've done then please email buzz@makeabeeline.uk.
Get your community involved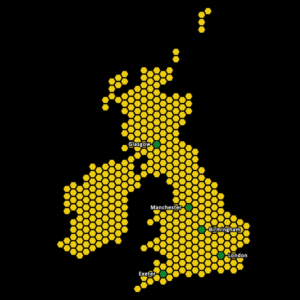 Why not get your knit and natter group or local Britain in Bloom team to make a swarm of knitted, crochet, felted or pom-pom bees to display around your town or villlage in shop windows, libraries or public spaces.
Do you have a community garden? What about that untidy space that just begs a guerrilla gardening team to tidy it up? Swap seeds and cuttings or ask your local garden centre if they will donate some seeds.
Make it a social event and involve all ages. Why not organise a Big Lunch?
Above all – tell us about what you're doing so we can put you on our map!