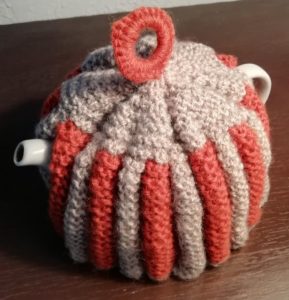 Download pdf
I am not a pattern writer and rarely write down instructions for what I knit so this is just a guide and you might find you need to adjust what I have written!)
Materials
Different yarn weights and different size needles will result in different size tea cosies and you can make this one bigger by casting on more stitches and knitting the body longer. My pattern was for a fairly small pot. One ball of 50 gm DK in each colour is plenty.
Method
Make two pieces the same.
With DK and size 4 mm needles cast on 96 stitches in main colour.
Knit 8 stitches in Main colour and 8 stitches in Contrast colour alternately along every row, carrying the yarns along the back of the stitches on Right side rows and in front of the stitches on Wrong side rows, forming ridges.
Work 32 rows (more for a taller pot).
To shape the top, knit 2 stitches together all along the next row, keeping the colours correct.
Next row, using Main colour only, knit 6 rows.
Next row (knit 2, slip 1, knit 1, pass the slip stitch over) to end (36 stitches)
Knit 4 rows
Next row (slip 1, knit 1, pass the slip stitch over, knit 2 together) to end (18 stitches)
Knit 1 row
Knit 2 together along row (8 stitches)
Draw up remaining stitches and fasten off.
Assemble
Stitch pieces together leaving room on both sides for the spout and the handle).
Add a pompom to the top or crochet around a curtain ring and attach to the top.